Multifamily Debt Collections: Best Practices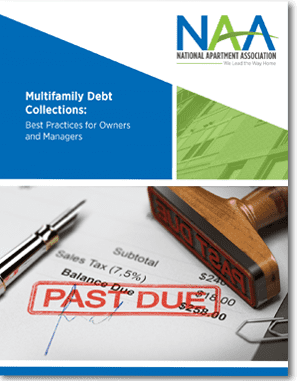 With the number of lost collections increasing year over year, aggressive recovery procedures have become a hot topic with apartment owners across the nation. Although this paper doesn't provide specific instructions on how to recover a debt, it is intended to serve as a guide as you review your company's particular debt collection policy. An average of $92 per U.S. apartment unit is lost annually to collections, according to the 2018 National Apartment Association Income and Expense Survey.
This white paper outlines the best practices in the collection of bad debt or monies owed to an individual property or property owner. Become knowledgeable in collection standards and steps, best practices to create a well-crafted collection policy and how to reduce bad debt and increase overall recovery.
Want to access the white paper but not a NAA member? 
You can find your local NAA-affiliated apartment association easily and become a member of your local apartment association to access this white paper! Once you are a member, you will not only be able to enjoy the benefits from your local association but also are entitled to the most comprehensive resources from NAA.