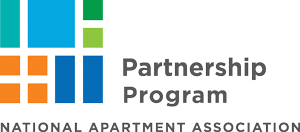 Gain access to the largest group of global apartment housing professionals with NAA's fully customizable partnership program. By becoming an NAA Partner, you'll be able to connect your brand with the #1 name in apartment housing, customize the way you leverage NAA to make the program align with your business goals and objectives, and enjoy the exclusive benefits of a year-round partnership.
Customization is a key element to this program
With more than 300 options for customizing the way NAA members and the apartment community see your brand, the NAA Partnership Program is the perfect way to:
Reach the right audience
Amplify your message
Utilize a diverse media mix
Extend your brand
Customize your program
There are four levels of Partnership
Strategic Partnership
Premier Partnership
Champion Partnership
Industry Partnership
2023 NAA Partnership Program Guide
2024 NAA Partnership Program Guide
2023 NAA Sponsorship Opportunities
Reach your goals by taking advantage of sponsorship opportunities at NAA events and programs throughout the year. To select any sponsorship, you must be a 2023 NAA National Suppliers Council member.
2023 Apartmentalize Sponsorship Opportunities
2023 Cultivate Sponsorship Opportunities
2023 Ad-Hoc Sponsorship Opportunities
Get in touch! Reach out to us with your sponsorship interest and any questions at [email protected].