The Complexities of the Digital Generation: Insights From the NAA/SatisFacts/ApartmentRatings Survey on Gen Z
Image
Generation Z prevails above other generations as the most ethnically diverse and best educated. To better understand housing trends for this generation, the National Apartment Association in partnership with SatisFacts/ApartmentRatings conducted a survey of Gen Z renters in November/December 2020. Survey results are based on 927 responses from 18- to 23-year-old apartment dwellers. The full report uncovers the cohort's geographical preferences, homeownership and renting sentiments, and preferred apartment amenities.
Below is a selection of key takeaways from each section:
Focus on Students - Top Regions for Retention & Migration
24% of survey respondents plan to work in the health care field post-graduation. Demand for health care workers was highest  in Arizona, Colorado, Alaska and Idaho in 2020 as measured by location quotients. Fifty-eight percent of college students plan to stay put after graduation while the remainder will relocate. The top regions for retention and migration combined are the Mid-Atlantic and Pacific.
Location and Property Type Preferences
The trend to move away from cities to  the suburbs continues for Gen Z's; approximately 44% of respondents said they would prefer to live in a vibrant suburb. Also, a significant 43% desire to rent single-family detached properties after graduating.
Location Factors
Proximity to work or school was the key location determinant for 36% of Gen Z's still enrolled in college, followed by proximity to entertainment, dining, shopping and gyms.
Renting Sentiment 
The majority (89%) of Gen Z survey respondents agree that renting requires you to follow the property owners' rules. Although 64% came to the consensus that renting provides an adaptable living arrangement. Gen Z renters also believe that buying a home is more financially sensible than renting; 58% indicated that renting feels like throwing their money away.
Homeownership Sentiment
89% of Gen Z's surveyed believe that homeownership provides both more control and privacy than renting. Few Gen Z's consider home prices an obstacle toward homeownership, as 69% are confident that it will be financially feasible to own a home at some point in their life.
Community Amenities
According to survey results, Gen Z renters' value guaranteed parking, Wi-Fi enabled communities and security and access control features above all community amenities. In contrast, onsite retail, car charging outlets and business centers were of lesser importance.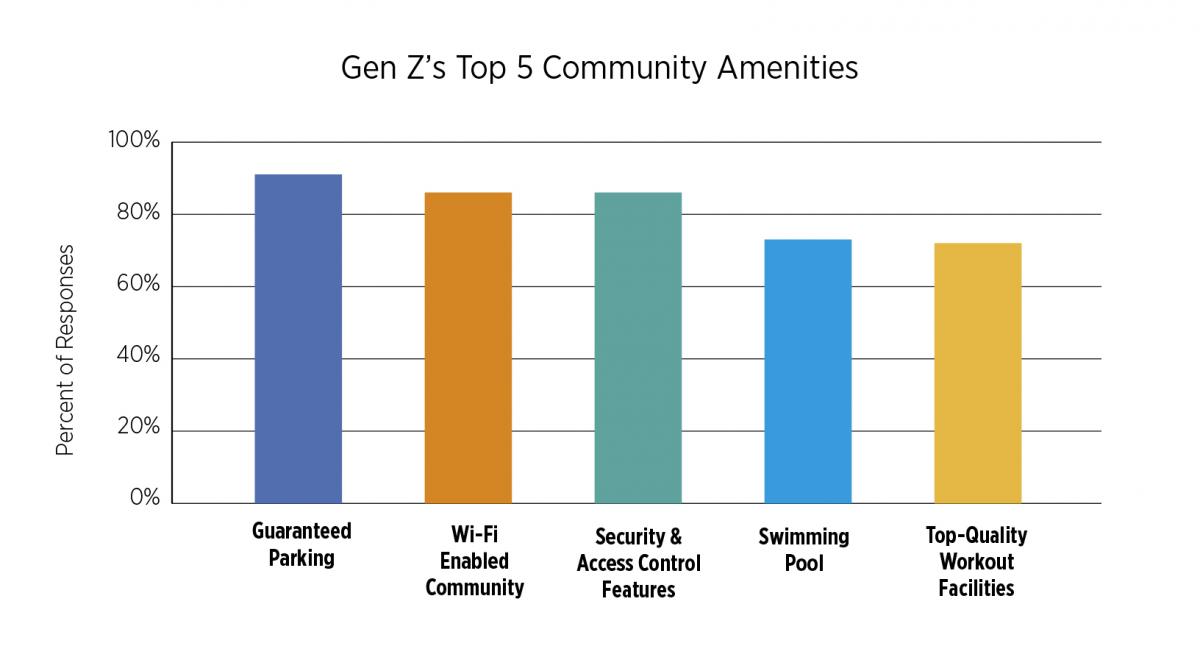 In-Unit Apartment Amenities
Gen Z renters are savvy yet practical consumers who additionally value a functional living space with upgraded features. The majority of participants said that strong internet speeds, spacious floor plans and premium features such as a washer/dryer, walk-in closets, balconies and hardwood floors are key factors in their decision-making. However, keyless apartment entry, smart-home controls and a dedicated office/workspace are not critical features.
For more information
For more information, please contact: