How to Effectively Manage Package Acceptance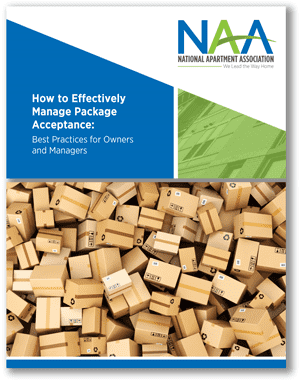 As e-commerce continues to enjoy runaway growth, more than doubling its share of retail sales in 10 short years, package delivery has become a centerpiece issue among rental housing operators across the country. Resident satisfaction is a top priority for management companies, necessitating a smooth process from package acceptance through delivery to residents.
This white paper covers effective package management for rental housing communities for property managers and owners and outlines best practices while tackling the pros and cons of various management systems that save administrative time, increase revenue and protect liability. Also contained within the offering are thought-provoking questions to aid in determining the best solution for a wide range of property types as well as an example supporting documents that can be implemented within management policy.
Want to access the white paper but not a NAA member? 
You can find your local NAA-affiliated apartment association easily and become a member of your local apartment association to access this white paper! Once you are a member, you will not only be able to enjoy the benefits from your local association but also are entitled to the most comprehensive resources from NAA.